Recent news of the Australian property market being in slow decline has naturally peaked our interest. Australians, especially doctors, love property. We live in it, invest in it, and run our businesses from it.
So, let's take a closer look at what's going on

The election did what it always does; it spooks many from buying. People often hold steady to see what transpires, then launch back in once the big event is over. However, this time we are also facing rate rises and a somewhat exhausted market.
The best time to be in the market is when other buyers are not – in other words, buy when others are fearful. Times of uncertainty can be an advantage to prospective buyers but it's much easier said than done.
We saw some great deals in the weeks leading up to the election and we've noticed greater enquiry and activity in the market since. There were no government policies that would negatively impact property, and both Labor and the Coalition had their own strategies for increasing first home buyer activity. With negative gearing and changes to franking credits off the table, it's clear this was just a type of paralysis we tend to see around major political events, compounded with a 'why not wait?' approach. But, this hesitation creates windows of opportunity and that is precisely the time to execute a plan.
Commercial property
The commercial sector is not as emotionally driven so it's been business as usual in this space. Buying and leasing is ramping up and as a result, industrial assets, well located retail property and city fringe office space are all doing well. Businesses are rebounding and they need office space. The growth in suburban services, and more employees working from home, means there is insufficient property to support this transition. Combined with extremely high building costs and a sluggish project pipeline, it's a good time to be a commercial property owner.
Residential property
As for residential, this is definitely where you have leverage as a buyer. We haven't seen this since early 2020 – and those were scary times.
Let's take a look at the property market on the East coast
Brisbane is still strong, prices are increasing but not at the same pace as last year. The top end has been most surprising with huge appetite in the >$3m range which differs from previous booms, largely driven by interstate migration, older population and investors. This time there has been a huge migration of highly skilled workers, with equity or cash from their Melbourne and Sydney properties, and they are buying aggressively.
There has also been a bit of a boom in the middle rings, like Chermside, Mansfield and Ferny Grove, where property prices have doubled in 18 months. There are certainly areas we see as great prospects that haven't quite kicked that hard yet. With lifestyle and climate in focus, plus huge infrastructure investment and population growth, the pressure on yields and values should continue.
Queensland (Brisbane) is the only state growing in population and we expect the market to stay strong for some time.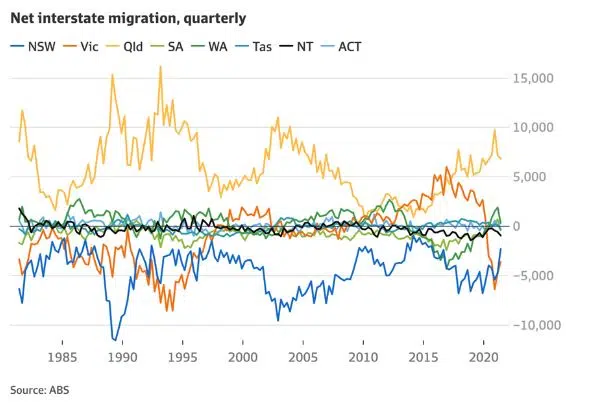 Sydney prices have certainly leveled and are not dropping despite some reports indicating otherwise. Sydney always holds its value. With such a unique landscape (waterways, harbour), and a landlocked region, the simple supply and demand equation means this is a very safe long term bet. Clearance rates are at 60 percent which shows us landlord expectations are not being met. The actual data is showing houses up 0.2 percent and units down 1.2 percent over the last quarter, showing there is not much movement either way. As always with this market, quality property is never cheap.
Melbourne, at the southern end of the east coast, is still going strong as first home buyers and investors continue to be on the hunt for quality houses. Demand for townhouses and units, however, remains relatively weak. High end townhouses and dual occupancy properties seem to be selling well in the blue chip and premium Bayside regions although vendors have tempered expectations in the $2m range in the inner city.
There are still some situations where prices far exceed expectations such as 28 Tennyson Street, Sandringham. We expected this property to sell in the $3.3m range so we were surprised to see it fetch $3.85m, 15 percent above market. While this is uncommon, it's clearly still happening from time to time.
With immigration slowly returning, we expect the Sydney and Melbourne rental markets to benefit in the short term, followed by greater buyer demand at the 2-3 year mark. Right now, we advise you to know which property to target and when to walk away – and, more importantly, make sure your decision is supported with independent advice.
Where are the areas of opportunity of the property market right now?
Vendor predicaments can vary and some may have bought at the peak but now need to sell.
Rising cost of building is making some projects unaffordable for those who bought which can present great opportunity for those who can hold until this levels out.
A buy and renovate strategy is ideal for those who have access to an available trade team. You can do what others can't right now by giving a makeover to a liveable but tired property for rental.
Sites suitable for ground up projects are usually fiercely contested with developers keen to build boutique apartments or townhouse projects. However, developers have curbed their acquisition of these types of sites for now, making this strategy more achievable.
As always, you can't fail with quality houses in good education catchments that are walking distance to high street shops.
And of course, we need to touch on the elephant in the room, rising interest rates.
This has had an adverse effect on house values in the past, but when interest rates rise from such a low base, it's hard to see where the great 'sell-off-due-to-unaffordability' would come from, particularly when households are sitting on more cash than ever with most banks saying their mortgage customers are, on average, 3 to 4 years ahead of repayments, and the nation is enjoying record low rates of unemployment.
Within a year, rates could even be back at pre-covid levels – or similar – not forgetting the market was also running hot at this time as well.
Overall, we see a slight bump in interest rates as having only a moderate impact on the appetite of buyers. Moreover, the steep cost of property, and affordability constraints, will be a much more active lever in tempering growth with some sellers not getting as much as they expect.
Happy hunting and make sure to get in touch or call Julian Muldoon, Director at 1Group Property Advisory on 0480 024 214, to discuss some of your best options in this post-election phase of the market.
Disclaimer:* This article contains general information only provided by 1Group Property Advisory, and does not consider your personal objectives, financial situation or needs. You should assess whether the information contained in this communication is appropriate in relation to your own objectives, financial situation or needs. Visit 1Group Property Advisory for more information.